Holly Anne Thoreson
age 17
Minnetonka Minnesota
Last seen August 24th, 2018

5'9"
150 pounds
Permed brown hair that is shoulder length

She usually colors her eyebrows in with eye pencil. Blue eyes in color.

She has a small scar on bottom lip. Scars from appendix rupture. She has scars on both big toes from surgery . Scar below left inner knee from tumor removed. And scars on both arms from cutting.

She has not been on any social media since Saturday 25th and location was mall of America. Holly has not been on her medication since Friday the 24th.

Please contact 911 if you see her or the Minnetonka Police Department 952-935-8500 if you have any information ... See MoreSee Less
3 days ago
Holly has been located and she is safe! Thank you everyone for sharing!
In the basement of MOA, there is an entire Bloomington Police Dept.. Hopefully they would have, but using CC transactions possibly, with their camera's to see if they could get some clues. If she was on social media, its possible to figure out exactly where she was, & what the situation was. Keeping eye's open in Bloomington.
Shared in Cottage Grove, Mn. Hope she is found quickly.
I sincerely pray she is found safe and unharmed and receives the medical assistance she requires. I think it is totally amazing that everyone is mentioning where they are sharing this info from. I am going to exploit this in South Africa and encourage all to do so. We have children especially, missing every 2-3 minutes throughout SA and the end results are generally extremely devastating. Maybe I can be a little voice. Thanks.🗣 👩‍💻👼👼👼
Praise the lord she is found safe !!!
That is the BEST NEWS EVER!!
Someone knows something-please tell someone, so she can be found and brought home!
shared from Le Mars Iowa- Ice Cream Capital of the World- pray she's found safe
Will share in Madison Wi. So sorry for this pain. I will keep all of you in my prayers
we have over 50 people in the state of Iowa missing- very sad
I hope she calls home soon. Thinking of you and your family Shelly!
Shared in Litchfield. Prayers fer her safe and prompt return home.
Still sending you my prayers, love and hugs! Shared again in St. Paul!
Sharing in Neenah, Wisconsin. Praying for her safe return.
Shared in Columbia Heights
Hope she is found safe & soon. Sharing in Sartell/St Cloud MN area.
Prayers sent.shared from Hibbing mn.
Prayers.The Mall is such a large place.Was she alone there? My feeling on this is always be with someone. Not by your self. Shared in Sartell
Shared in west St. Paul on Tuesday September 5. Prayers please!
May God protect her and bring her home!
Hope they find her safe and sound real soon!! Prayer's and Hug's
My prayers for safe return! Shared in Florida!
Shared in Crystal, Minnesota
Shared in Two Harbors, MN!
Load more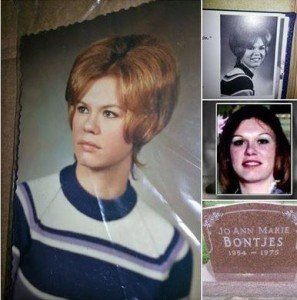 JoAnn Bontjes, a 21-year-old hairdresser from Sherburn, was reported missing on Oct. 2, 1975, when she failed to return home after leaving the Trimont Legion Club early that morning. In the Oct. 3, 1975, issue of the Sentinel, it was reported that Bontjes' car was found abandoned along Highway 4, about two miles south of Trimont. Her shoes were found lying on the ground near the car, and her purse, jacket and keys were still in the car. [Read more about JoAnn Bontjes]